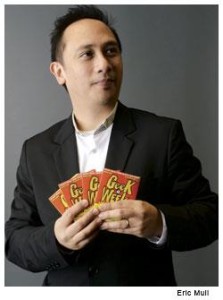 Len Peralta is a Cleveland area artist/illustrator who has been podcasting since 2005.   Along with his keen interest in podcasting and hosting his own shows, Len has been a huge fan of monster makeup since he was a small child.  He constantly checked out books out about makeup artists Dick Smith, Jack Pierce and Rick Baker from his local library.  One of his coveted Christmas gifts was Dick Smith's Monster and Horror Makeup kits.  While other kids were learning how to toss a baseball, Len was creating his own makeup effects using the pre-packaged Flexi-Flesh, spirit gum and blenders. He would pore over the latest issue of Fangoria and begged his parents to take him to the mall to meet makeup effect artist and hero, Tom Savini.  Today, Len is a consummate fan of the art and likes nothing better than to chat about monster makeup and effects with anyone who is within earshot.  Len is the father of seven monsters of his own with his wife Nora.  They still live in a small quiet suburb of Cleveland with their wheaten terrier, Snoopy.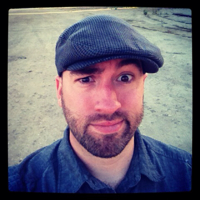 Frank Ippolito also hails originally from Cleveland, Ohio.  Like Len, he used to hang out out in the basement and make monsters, inspiring his true calling in special effects artistry. He followed his instincts to LA and now owns his own F/X shop. Frank has racked up some notable feature film credits; he recently collaborated with Danny DeVito on the horror film "St. Sebastian's." He has appeared on two seasons of the SyFy show "Face Off". His favorite movie with special effects is "John Carpenter's The Thing."
Frank has worked on special effects and make-up for movies that include "Dinner for Schmucks," starring Steve Carell, "Pirates of the Caribbean: Dead Man's Chest," starring Johnny Depp, "Casanova," starring Heath Ledger, and "The Chronicles of Riddick," starring Vin Diesel.


Frank is also impeccably punctual.